The Best Auto Facebook Likers [April 2020]
On today's online social media, everything revolves around popularity. That's especially true for Facebook, which is by far the largest player in this game. Likes, reactions, comments, and the influx of new followers all have an impact on user account popularity.
Unfortunately, gaining likes and comments on Facebook isn't that easy. It gets even more difficult if you don't already have a significant number of followers. Luckily, there are third-party auto liker services that can help speed up this process.
Facebook Auto Likers
Here are the most popular players in this game, in no particular order.

Qlizz is free and allows you to increase the number of likes on your posts. That also includes the photos on your profile. Although this service limits the number of automated likes you can acquire in a single day, there are ways to go even beyond this limit.
By purchasing likes in bulk, you don't have to rely solely on the limited number of likes you get with the free service. Of course, the price varies depending on the number you want to buy. What's neat about this feature is that you can also purchase new followers for your account.

As with Qlizz, you can employ Free Liker to get more likes on your posts. Besides that, it also helps you acquire new reactions and comments. A regular weekly inflow of likes and followers will improve its performance.
The one thing that sets Free Liker apart from its competition is its Android app. With a user-friendly interface, you get full control over the growth of your Facebook account.
Free Liker also allows you to automatically post announcements to Facebook groups and your friends' timelines. That can save you a lot of time going from page to page and copy-pasting the text.
When you reach the daily limit of a thousand auto likes, you can switch to the Auto Reactions feature. It gets you a thousand reactions you can use on your or other people's posts. And with the Auto Followers service, you can bring in 50 new people to your account with each submission you make to Free Liker.
Using the paid services, you can even go as high as 10,000 likes every 20 minutes, as well as a thousand new followers every time you submit an automation request.
Using the Facebook Graph API, Yolikers provides 200 active likes upon each request. You can do this 50 times a day, up to the maximum daily limit of 10,000 likes. And all that is for free. Besides likes, Yolikers also offers new followers and post reactions to other people's posts.
With the paid version, you get access to an almost unlimited number of Facebook auto likes. You can use them for posts, images, and videos you publish. Another thing to note is that this service claims that it's spam-free. That means they won't post anything to your Facebook account you don't agree with.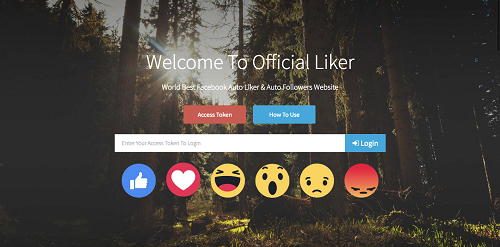 As with the services mentioned above, Official Liker also provides a range of automated options for free. With a guaranteed minimum of one thousand auto likes and over 500 comments upon every submission, this seems like a great offer. If you need additional followers for your account, you can get as many as a thousand of them each time you submit a request.
Official Liker also lets you add reactions to other people's posts. That applies to profile pictures as well. Another cool feature is choosing the country from which auto likes are coming. Offering Geo Likes from almost every country in the world, Official Liker can boost your presence in regions you want to target.
Since there's a timeout between the requests, the app will send you a notification once the waiting period is over. Another cool thing about Official Liker is its monthly giveaways. If you win, you'll instantly receive 20,000 likes on your profile picture.
Allowing you to choose anything between 10 and 350 likes each time you submit a request, Hublaa Liker lets you fine-tune the growth of your Facebook profile. Their free services also include standard and geo likes, as well as reactions to status, pictures, videos, and shares. That applies to your Facebook page and other people's profiles.
Like Free Liker, Hublaa also comes with an android app. Another thing worth noting is that a free account can receive up to 15,000 likes a day.
To use the Hublaa Liker, you'll have to make some adjustments to your Facebook account. First, change the privacy on both your profile and subscriber info to "Public." Next, set your post privacy to "Public" as well. That will enable Hublaa's automated service to work with your Facebook profile seamlessly.
For the first-time users of Hublaa, Facebook might notify you that you've accessed your account from an unknown location. That's a standard security procedure, and you should select "It was me" once you reach that step.
Of course, if you don't feel comfortable making these changes, you might want to try another service.
WefBee, also known as WebFee, is another free service you can use to gain more likes on Facebook instantly. Along with the standard features like auto likes, comments, and reactions, it comes with a few more tricks up its sleeve.
Offering a unique set of Facebook tools, WefBee includes Auto Follower, Auto Requester, Multi Group Poster, Page Poster, and many more.
Since it works as an exchange program, you gain access to likes from everyone that's in the WefBee's user network. That means the auto likes you receive will come from genuine user accounts. That applies to your account as well, since the service will use it to generate likes and followers on other people's pages.
Auto Liking with Caution
Automatically adding a lot of likes to your Facebook posts will give you an edge over other users. Since it is a risky undertaking, we advise using it sparsely. And once you reach that critical mass, it may kickstart the organic growth of your profile.
Have you managed to increase the popularity of your Facebook profile with auto likers? Which one did you use? Please share your experiences in the comments section below.
Disclaimer: Some pages on this site may include an affiliate link. This does not effect our editorial in any way.